Cold calling is one of the most critical parts of your sales process. When done right, it can reduce your sales cycle length, help you identify more opportunities, and efficiently grow revenue. If you've been in sales for any amount of time, you know that the best practices around executing cold calls have rapidly changed thanks to new technologies.
Well, we're here to help demystify the art of cold calling. We'll get you started with the latest tools and insights, including scripts, cold-call templates, data-backed tips, and more. We'll answer your questions, provide helpful advice, and share the techniques you need to succeed.

Jump ahead to the most relevant sections:
What is Cold Calling?
Cold calling is contacting any prospect by phone who currently isn't "raising their hand" at the moment.
This means the prospect won't be expecting your call. That's okay, but you'll have to work even harder to convince prospects to trust you and break through.
Cold calls are different from warm calls, where prospects have viewed or downloaded content on your website. They're also different from hot leads, who have requested you to call them.
You should have a process in place for approaching warm calls and hot leads, though here we'll focus on cold-calling specifically. To learn more about how to handle warm leads, check out this video.
Cold Calling is Not Dead
Despite the myth that "cold calling is dead," data shows it's still a valuable strategy used by most high-performing sales teams.
According to DiscoverOrg:
More than half of high-growth companies (i.e. those driving 40% year-over-year increases in revenue) identify cold calling as a key strategy of theirs
Companies that say cold calling is "outdated" drove 42% less growth than those who said it is "alive and well"
Cold calling can also be a great way to break through and drive awareness by putting a voice to your name when used alongside other multi-touch tactics in your sales sequence, such as cold emails, voicemails, and social selling, which we'll touch on below.

Get Started with Cold Calling
At a high level, the perfect cold call includes four components:

An introduction
Connecting statement or "reason for calling"
Qualification
Ask
Two things are essential for successful cold-calling: a sequence in place and persistence.
According to the State of Conversation Intelligence report, the average successful cold call sequence spans 20 days and includes four calls to the same person.

What Does the Typical Cold Calling Process Look Like?
Throughout each section we've also included data from our recent State of Conversation Intelligence report. To build the report we leveraged data from millions of cold calls taken across 300+ organizations between January and June of 2019. With this data we can better understand how top-performing teams work their cold-call process.
Compare your current cold-calling process and results to companies of a similar size and Average Contract Value (ACV) to see how you stack up.
See How You Stack Up To Industry Standards
State of Conversation Intelligence
We looked at cold calls that progressed through the sales cycle. Here's what we found:
The average length of cold calls that convert into a next step is 7.5 minutes.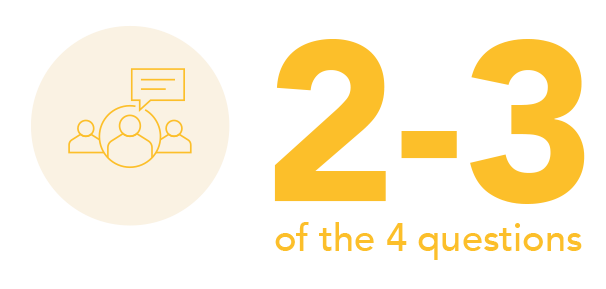 Reps talk for 40-45% of the conversation and ask 4 questions, including 2-3 engaging questions that solicit responses of 30 seconds or more.
Prospects typically ask 5-6 questions. Topics like discounts, pricing, and competitors come up 1-2 times each.
On an ideal cold call, both the rep and prospect will each monologue for more than 30 seconds long, so it's really important to be confident and engaging.
See How This Data Changes (or Doesn't!)
State of Conversation Intelligence Report
What a typical cold call to close funnel looks like
Ever wonder how many cold calls it takes to close a deal? Here are the industry averages according to our call recording data:
Useful Reads:
Advice from an Expert: "Be confident, be clear on your objective, and know their why. Why should they want to meet with you?" – Nancy Nardin, CEO Smart Selling Tools
How to Build a Cold Call Script
A cold call script is essential for sales teams, especially if you're targeting different personas for a host of products and features. This helps align your messaging and can increase ramp time.
Print and customize the below template to adapt your cold-call to different personas and accounts. Consider the following tips.
Tips for a Deal-Closing Cold Call Script
Don't waste time asking things like "How are you?" and "Is now a good time to talk?"
Instead, lead with why you're calling by getting straight to the point
When possible, make a warm reference, such as a connection you have in common or a similar company you work with
Reference the challenge or problem you're trying to solve
Explain how you solve it through a customer story
Try to ask the prospect four open-ended questions
Know how you'll answer your prospects' top 5-6 FAQs
Don't close the deal on the call! Instead, just close the next step.
9 Cold-Calling Tips and Best Practices
Now that you know what an ideal cold call looks like and sounds like, let's dig a little deeper into some of the best cold-calling techniques.
1. Before you pick up the phone, over-prepare!
A perfect cold-call starts well before you pick up the phone and is just one step in a well-oiled sales process. Avoid the rookie mistake of reaching out to unqualified prospects by phone and focus on quality instead. Otherwise you'll waste a ton of time.
Here are some resources you should have in place before you ever make a cold-call:
Dedicated account lists, including strategic and named accounts with owners. You can score and prioritize the accounts by key criteria that matter to your business, such as hiring in certain divisions, new location openings or product launches, budget or headcount, and immediacy of the account's planning season
Detailed personas for your top prospects, including detailed explanations of how they quantify ROI, their needs, challenges, and passion points. We suggest bringing in prospects and have them do a "day in the life" session with your team!
Research on your top accounts, including trends impacting their industry, related tools they use, and recent company news you can reference. Consider tools like CrystalKnows to adapt your pitch.
Cold call scripts that leave room for personalization and help you handle common objections, as well as FAQs (see below!)
2. Fill Out An Account Planning Template
Outline your plan of attack - prioritizing key accounts and opportunities first.
3. Bring the energy on cold-calls
One of the key aspects of cold-calls that separates the "Pros from the Joes" is confidence and energy. Energy can be felt - even over the phone!
*No offense to Joes! We love ours.
To boost your energy, consider the following:
Standing up (such as power posing)
Speak louder than normal by projecting your voice
Over-emphasizing key phrases to fully capture a prospect's attention
Using the prospects name
Advice from an Expert: "Reps must be very confident and amplify their energy, sentiment, and pronunciation so their message comes across clearly," - Eamonn Filinski, Director of Sales Development, Uberflip
4. Focus on learning and engaging, not selling
The key to a successful cold-call is to get prospects opening up. Our research shows that successful cold-calls that move forward to a second meeting, such as a discovery call, are 7.5 minutes long. That means you need to work hard to get prospects to open up on an unexpected call by being especially relevant and empathetic.
Reps should ask 4 questions on cold-calls and 2-3 of them should be engaging questions. And top reps talk 45% of the time or less on cold calls and focus more on learning and listening.
Pro Tip: Engaging Moments are a great way to tell if you're learning and listening. The more Engaging Moments you have, the more likely you're learning, listening, and connecting with your prospect.

What is an Engaging Moment?
An Engaging Moment is when you're connecting with your prospect so much, that they are excited to share with you for 30 seconds or more. We measure these in terms of prospect talk time on a call. The longer a prospect monologue on a call, the more engaging the moment was.

What is an Engaging Question?
An engaging question is an open-ended question that solicits a response of 30 seconds or more.
Here are some of our favorite engaging questions:
How are you currently approaching [challenge] at [company]? What tactics and platforms do you use?
It seems like you already know a little bit about [topic/challenge]. What have you explored thus far?
Now that you know a little bit about what we do, what questions might you have for me?
Is there anything that might stand in the way of us continuing conversation together?
5. Drive toward an "ask" or next step
It's important to remember that you're not trying to close a deal on a cold call. You're simply trying to understand if the account is qualified and drive the relevant next step, which might be a discovery call or demo depending on how educated your prospect is and how much information you gather during the cold-call. Sometimes the next step is to simply send over collateral, such as a case study, and engage the prospect at a better time if they're truly not ready now.
A successful cold call will help you understand:
If your prospect has a clear need/challenge to solve
How educated they are on your category
Who else would be involved in making a decision to buy from you
If this is something they're just starting to explore or if they would be potentially interested in implementing soon
What they need from you to move forward in the sales process
Major bonus points if you uncover any current solutions or competitors they use and how they evaluate ROI in your category!
While it can be tempting to ask about budget on a cold-call, we suggest avoiding this topic unless the prospect is clearly educated and looking to buy in your category soon. Don't put the cart before the horse and "sell" on the cold-call. Remember, you are there to listen and learn to progress prospects to the next step where you can prove further value.
Your best bet is to not mention budget or pricing. However, your prospect might. Especially if they're more educated on the category!
Pro-Tip: Still a good idea to have some talk tracks around pricing, though. It comes up more often than you think - even on cold calls!
6. Address Common Objections & FAQs
We mentioned that it's important to have best-in-class responses for common objections and FAQs.
Our call recording data shows that prospects will ask 5-6 questions on cold-calls. Prospects also tend to bring up objections around budget, pricing, and competitors at least once early on. While this may seem challenging, it's generally a good sign that your prospect is educated on the market, and educated prospects are more likely to close.
Here are some examples of common cold call objections that come up on:
"I'm just not interested."
Try saying: "I understand, NAME. So are you saying that X challenge is not important to you in your role at COMPANY?"
Or, "Can you help me find someone else at COMPANY who may be more focused on Y?"
"We already use X competitor"
Try saying: "We're very familiar with X COMPETITOR. How are they working out for you so far – are you seeing the results you'd hoped for? Is there anything that could be improved?"
"This seems like it'd be too expensive for us."
Try saying: "We heard something similar from X COMPANY and they were able to drive X RESULTS/ROI. What worked for them was… Knowing that, would you reconsider learning more?"
"I don't have time to talk right now."
Try Saying: I can tell I caught you at a bad time, so I'll get straight to the point…
"I don't think this will work for us right now."
Try Saying: "I'm curious to know why you feel that way, especially because we've had so much success with similar companies. Can you help me understand by explaining a little more about why you think this isn't a fit for X COMPANY right now?"
Useful Reads:
7. Embrace rejection on cold calls
Rejection happens. And it happens a LOT when you're cold-calling. In fact, according to the State of Conversation Intelligence, the average connected cold call only lasts 80 seconds long. Only ~10% of cold-calls last longer than 2 minutes – and that's if the prospect even picks up!
That said, there are things you can do to deal with rejection and get over your fear of rejection:
Ask for feedback.
When a prospect rejects you, try saying: "I appreciate your honesty. The hardest thing about my job is not knowing whether we can help someone. Do you mind telling me why you don't think we can help you?"
Create a Slack channel to share funny rejections as a team.
Let's face it. Sometimes cold-calling stinks and people are rude. It's important to remind everyone not to take things too personally and that they're all in it together
Coach and practice a ton to gain confidence.
We've shared tips and templates to self-coach, peer-coach, and lead 1:1s below. Skip ahead to our section on coaching.
8. Use voicemails alongside cold-calls
As we mentioned, more than 90% of cold calls will result in a voicemail. Use voicemails wisely by referencing a warm connection or by offering something of value that will inspire the prospect to call you back.
Try these voicemail strategies:
Warm Introductions: "NAME, X person in X division recommended that we speak today, which is why I'm calling."
Use Personalization: "NAME, I've been thinking about X COMPANY and am going to share some ideas by email to solve X CHALLENGE. I will call again early next week to get your feedback on the ideas I shared and really appreciate your feedback." Then, connect with them on LinkedIn.
Establish Credibility: "NAME, I'm calling because I've helped X SIMILAR COMPANY address X CHALLENGE and wanted to share some ideas with you. I'll follow up with a case study by email, but I'll call again next week to go through it with you and see if you had any questions." Then, connect with them on LinkedIn.
Some things to keep in mind when leaving voicemails during cold calls:
DO keep them under 20 seconds or less
DO leave your name and info last – lead with value
DO use an upbeat, friendly, and energetic tone of voice
DO incite some urgency
DO use your prospect's name and your name
DO NOT try to sell in the voicemail
DO NOT leave only one voicemail – continue to follow up
9. Use social selling alongside cold-calls
Social selling is also a great way to bolster your cold-call process and help prospects better put a face to the name.
What is social selling?
Social selling is contacting any prospect on social media channels, such as LinkedIn or Twitter, by requesting to connect, sending a private messaging, addressing them in conversation via communities and threads, or commenting on content they shared. The goal of social selling is to build awareness and learn about prospects. Social selling can also be used to set up meetings, such as discovery calls.
When it comes to social selling, here are some best practices to consider:
Show up and really engage. Don't automate things. Be yourself!
Address things you have in common, such as your university or mutual connections
Don't pitch - provide valuable information that shows you're an expert in your field
Advice from an Expert: "Help the people in your network. And let them help you." - Reid Hoffman, CEO LinkedIn
Cold-Call Sequence Considerations
When is the best time to make a cold-call?
The best time to cold call differs from industry to industry and by the titles you're reaching out to. We suggest that you record all of your cold-calls to understand who picks up when and use that data to guide your call times.
However, if you're just getting started, research from InsideSales.com shows that the best days to cold call are Wednesdays and Thursdays around lunch time (i.e. 12:15-1:15), or toward the end of the day.
What are some of the top cold-calling technologies?
There are many great cold-calling technologies out there.
Some of the top technologies for cold-calling include:
Automation Platforms

Manually automate the tedious tasks, such as dialing, navigating phone trees, waiting on hold, talking to gatekeepers, and scheduling follow-ups.
Example: ConnectAndSell
Full Sequence Management Platforms

Integrate cold-calling into your sales process alongside tactics like phone, email, SMS and social
Example: Outreach.IO

Conversation Intelligence Platforms

Record cold-calls and pull the transcripts into your CRM. Pull insights from cold-calls to improve your talk tracks and conversions. Build coaching pathways and certifications for reps so they can improve their cold-calls and see how they compare to benchmarks set by top performers.
Example: Chorus.AI

Contact Data Platforms

Get accurate emails and phone numbers, as well as insights on how to personalize your cold-calls based on recent account news
Example: Discover.org
What are some ideal goals/KPIs for cold calls?
As a general rule of thumb, if you can convert 30-40% or more of your connected cold-calls into a meeting, you're doing a fantastic job.
Consider the following Cold Call KPIs to start:
Inputs:
Monthly Revenue Goal
Average Deal Size
% of cold-calls that close
Monthly Goals:
X dials
X connects
X cold-calls that move to late stages
X closed won deals
Weekly Goals:
X dials
X connects
X cold-calls with next steps
Building a successful coaching program for cold-calls
Even if you have all of the right tools, scripts, and best practices in place for cold calling, you're not going to be successful if you don't regularly coach your team.
There are three ways you can coach your team to success on cold calls:
Enable your team to self-coach
Inspire peer-to-peer & group coaching
Conduct film reviews during 1 to 1s
Set Cold-Call KPIs Using Benchmark Data
State of Conversation Intelligence
Cold Call Coaching
There are many ways to coach reps on how to lead successful cold-calls, including self-coaching, peer coaching, manager led, and group film review. Here are some examples, and we'll go into further detail below:
With self-coaching reps can listen to their own recorded calls and their peers' calls alongside a rubric.
Peer coaching might entail each rep commenting on a teammate's cold-call with two positives and two things to improve.
Manager-led coaching typically takes place in 1 to 1s where the rep can bring a cold-call to dissect together. Typically the manager will focus on developing a single skill, such as how to handle objections or ask engaging questions
Group film review takes place when a rep submits a cold call for review and the entire group shares feedback. The person who submitted the call first self-critiques the call before the entire group weighs in.
Cold Call Central
Cold Call Coaching for SDR Teams
Chorus has built a new experience tailor-made for SDRs and SDR leaders.

Cold Call Central provides long-awaited insights into the cold calling process so that SDRs and SDR leaders can coach more dials to success.
You can find answers to questions like:
What happened on my team's calls today?
Why aren't we getting enough meetings booked?
Are my reps qualifying the meeting correctly?
Our Cold Call Center zeros in on the front lines by helping the prospector drive more pipeline, build more relationships, and book more meetings!
Unlock the Potential Hidden in Your Cold Calls
https://www.chorus.ai/solution/sdr-teams
Self-Coaching on Cold Calls
We see that top reps self-coach by listening to an average of 20-30 calls while ramping and eight when fully ramped, or two per week.
To self-coach, reps should follow these best practices:
Spend 60% of your time listening to yourself and 40% to others, such as top performers on your team
Leave 6 comments on others' calls each month
Listen to 8 calls per month and 24 while ramping
Peer-coaching & group coaching on cold calls
Use a Conversation Intelligence Platform to have reps submit cold-calls to playlists, such as "One Call Close" or "Competitor Smack Down."
Then, motivate reps to provide constructive feedback on each others' cold call recordings and recognize team members who frequently engage. A best practice is for each rep to review (2) peers calls per week and leave (2-3) comments (one positive and two constructive).
Follow these best practices to implement team film reviews:
Center it on a storyline, such as a sales stage, customer stories, new product and solutions, or objection handling
Show the team what good feedback looks like (i.e. focus on behaviors, not people; make it a two-way conversation)
Align on a goal and next step
Make it ongoing and repeatable
Reviewing Cold Calls during 1-on-1s
We recommend that at least two of your 1-on-1s with each rep each MO include a film review.
Follow this film review process:
Have reps record a snippet of a cold-call (possibly one where they struggled) and send it to you in advance of the meeting.
Let the rep identify one area where they need your help (i.e. handling objections, or landing a next step) so you can focus the conversation.
Before you provide feedback based on the rubic we shared above, have the rep share their perspective of the cold-call – i.e. what worked, what didn't.
Then, share feedback with them starting with the positive followed by the things that can be improved.
Pick one area of focus for the rep to work on before they submit their next cold call.
For example, give your rep a goal to decrease their talk time by 10% or to ask more than three engaging questions on a call.
Useful Reads: